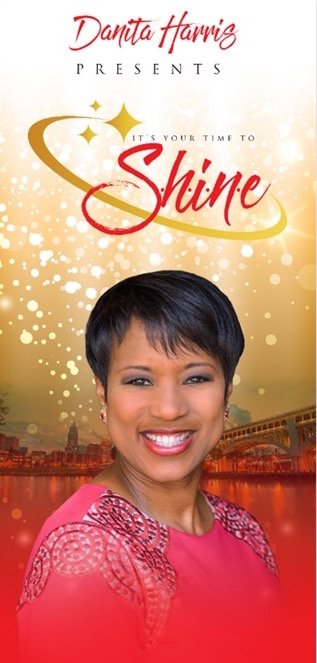 What Happens at a S.H.I.N.E. meeting?

This is a question that gets asked quite frequently. The first thing you will experience when you enter the door is someone greeting you with a smile and welcoming you to S.H.I.N.E. You can go get refreshments, mix and mingle with other women, or just take a seat and take in the worship music that is playing softly.
Praise and Worship is how we begin the meeting and everyone is encouraged to participate. It's followed by prayer and then an introduction of the non-profit organization we are featuring for the month. One of the pillars of S.H.I.N.E. is Philanthropy. At each meeting we teach the women the importance of giving back to organizations that are helping hurting women or young girls. Giving can be a monetary donation or a commitment to volunteer one's time to help the organization. It is not mandatory.
From learning how to budget, how to repair bad credit, getting your resume together, to learning positive self-talk to overcome low self-esteem, S.H.I.N.E. meetings will give you practical tools to help you "shine" in all areas of your life. Experts from different fields come and share their wisdom and skills with the women, in order to help them reach their personal goals.
Then it's time for the giveaways! This is a fun time where we draw tickets for some great prizes and the women really get into it. When they hear their number called the smiles on their faces truly lights up the room.
The final portion is the spoken word. A message that will empower, encourage and provoke the women to acknowledge and embrace their ability to "shine". It will inspire their spirits to rise above whatever life challenges they are dealing with and to press forward with hope in their hearts. They will hopefully leave each meeting believing that no matter how "dark" the issue, we all has the ability to SHINE!
ATTEND THE NEXT S.H.I.N.E. MEETING
H
You have been Handpicked by God to do something unique.
I
You will Influence others to choose God by your lifestyle.
N
You are Needed in the kingdom
of God.
E
You will excel in Excellence
through God.
Testmonials
Don't take our word for amazing S.H.I.N.E. meetings are! Take a look at these videos and see what some of our guest have to say about their S.H.I.N.E. experience.
Upcoming Events

No Events on The List at This Time